Group Training
AS A GROUP FITNESS PROFESSIONAL, HANA TRANSFORMS PEOPLES LIVES THROUGH MOTIVATING AND INSPIRING CLASSES THAT ARE FUN AND FULFILLING, AND ENCOURAGE YOU TO ACHIEVE YOUR FITNESS GOALS.
An innovative, creative and natural leader, Hana stays on the edge of group fitness by offering integrative exercises that bring a total body, mind and spirit experience to each class you participate in. Integration, function, creativity and fusion are great words to describe the intention behind each class that Hana offers.q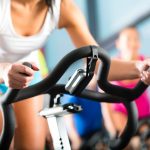 INDOOR CYCLING
An innovative and complete cardio-vascular workout that energizes your body/mind and lifts your spirit
PILATES FUSION
Integrates pilates principles with other movement systems to create a safe, dynamic and creative alignment and core experience.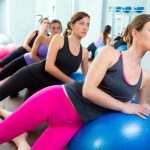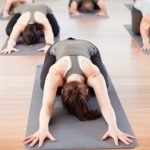 Yoga & Stretching
Breath control, simple meditation, and specific postures for strength, flexibility, posture and relaxation.
TOTAL BODY SCULPT
With a deep focus on core strength and conditioning, become lean, fit and strong from the inside out.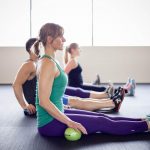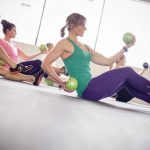 TOTAL BODY FITNESS
Get sweaty, fit and strong in this creative total body conditioning class that will power you to your next level of fitness.
HIIT TRAINING
An enhanced form of interval training, alternating short periods of intense anaerobic exercise with less-intense recovery periods.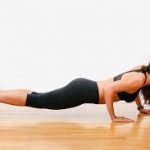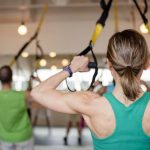 BOOT CAMPS
A short, rigorous form of circuit training to push and challenge yourself in ways you haven't before.
I look forward to my classes with Hana each week – even just being around her is like therapy. She has a way of making you forget about your life stresses and has you focus, even for an hour, on doing something positive for yourself. Hana makes her classes accessible for all levels and people. If you give yourself over to her, and let her guide you, you will forget the time, get a great workout, and leave feeling happier and lighter (and sweaty)! is one of the best coaches I have ever had. Jodi
Hana is an excellent fitness instructor. She possesses great energy. Her workouts are enjoyable and interesting. In each session, the student is both mentally and physically challenged. I highly recommend her for anyone looking to take their fitness to the next level. Lawrence
I've been going to Hana's spin classes for a couple of years as well as her group fitness classes for the past 3 months. Hana has a great understanding of the human body and spirit. She has a keen eye for detail ensuring you are using correct form in your exercises and shares her nutritional, health and fitness knowledge openly. She changes the classes up every week making each one challenging, creative and fun! I can tell she is passionate about fitness and wellness through her constant energy and enthusiasm which is inspiring. I love the results I am getting from the group fitness classes and hate to miss one week! I would recommend her to anyone! Dana
I've been attending Hana's classes for quite some time now, and they do not disappoint. She's very knowledgeable in various areas of health and fitness and that definitely shows in the way that she teaches. This, along with her wonderful taste in music, makes the time go by so quickly. I cannot recommend Hana enough. Gloria
After years of letting life get in the way, last year I decided to get in shape again. I stumbled on Hana's spinning classes. It was hard, but Hana motivated me to just keep my legs moving. It has become easier, but Hana inspires me to keep challenging myself, and to have faith that I can improve. She has helped me gain strength of body and mind. I am constantly asking friends and coworkers to come to her classes with me. I want them to feel as good as I do! Thanks Hana! Christie
I have been going to Hana's classes for over 3 years and I would still be going if I hadn't moved to Vancouver Island! I have always had a hard time finding classes that are fun and challenging, Hana changed all that for me. She incorporates her playful energy and passion for fitness in every class. I like that she does her research, and takes the time to educate her clients. I wasn't looking to lose weight or change my body in any specific way; I want to stay healthy and mobile in my body for as long as I can. Hana's training helped me feel stronger in my body and lose inches. Her classes are always fun and will kick your butt at the same time! Kirsten
Since I have been working with Hana I have received more energy, appreciation for how great life can be, love of family, love of simplicity. Hana always bring a spirit of compassionate challenge to her classes. You aren't obligated to participate, but your heart says you have too or you'll miss this great experience, so get on it!! Alan
I did, indeed, enjoy it. Hana has a bit of a different approach but I wanted to stress how much her passion shows. It's so evident and it comes out in everything she says - and she really pays attention to each rider. Her engagement with the class was some of the best I've experienced. The climbs in the seat were TOUGH but that's why I'm there! Andrea
As a second year spin enthusiast I've come to recognize Hana as an accomplished teacher. She brings a clear focus to every class and has a way of communicating that creates and integrates a mind, body and soul approach to her leadership. With supportive direction, gentle encouragement and a strong physical presence, Hana makes my spin class an enjoyable and rewarding experience. Richard
I have been going to Hana's spin class for the past 3 years and she is truly one of the best trainers/teachers I have ever had! Hana is knowledgeable, inspired, and kind. She designs a unique program for her students every week and for that, we are stronger, healthier, and, happier. Learning from her, we build skills that we can take off the bike and into other types of movement and living. Even the playlists for her classes have so much thought behind them that they inspire me through the difficult moments while enjoying myself the whole time. Thank you, Hana for sharing your gift of health with all of us. We are truly better for it! Ahalya